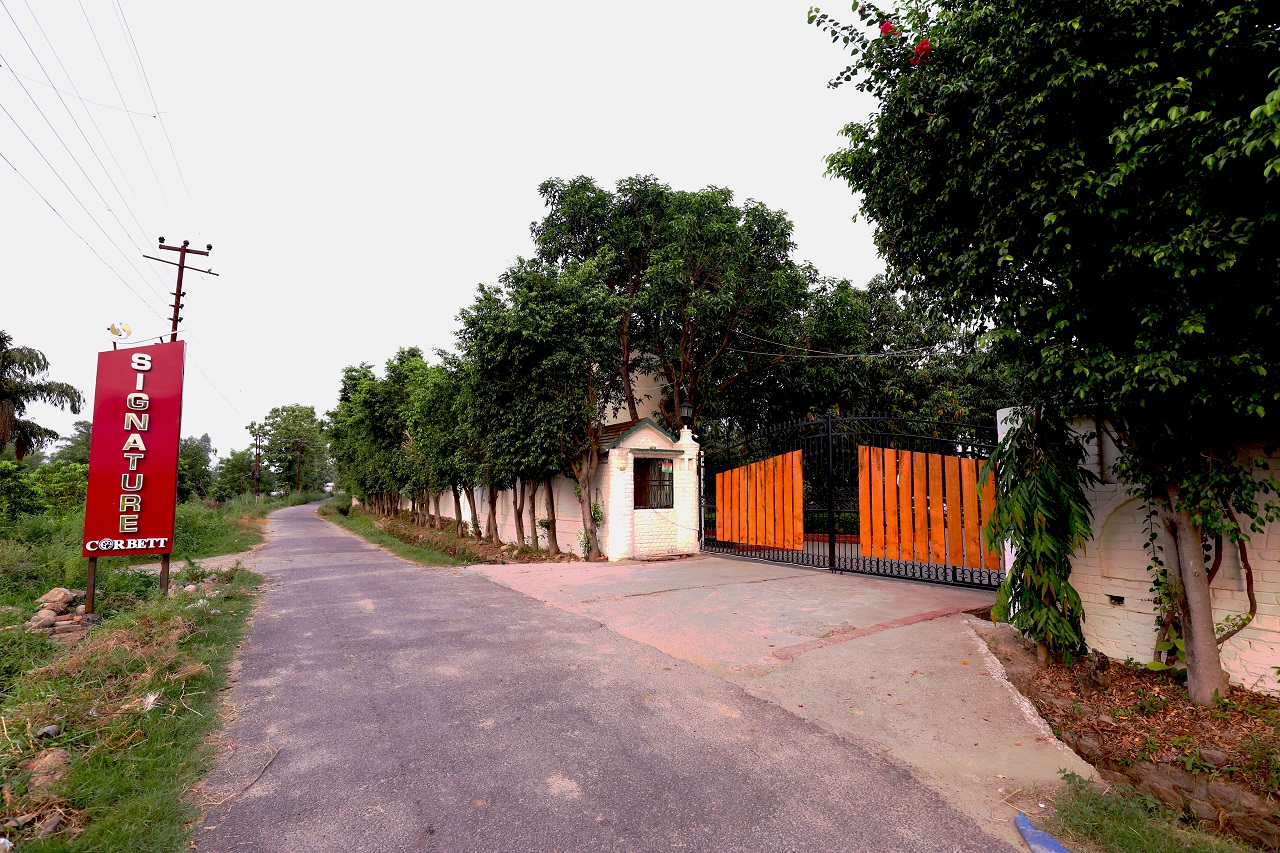 Welcome to Signature Corbett
In the north Indian state of Uttarakhand, district Nainital situated seven kilometers to Ramnagar, lies an eco- friendly luxurious resort in Jim Corbett National Park. The resort touches the forests of Corbett National Park all along its entire length on the north eastern boundary, contiguous to the forests of the National Park.
Signature Corbett Resort, a 4 star luxury resort is located at Sawaldeh village in Ram Nagar. It is situated at an approximate distance of 260 kms from Indira Gandhi International Airport. This resort has close proximity to Ramnagar Railway Station which is situated at an approximate distance of 6 kms from here. It is a plush resort which is beautifully designed with deluxe furnishings and trendy appeal. It serves its guests with best of comfort and facilities.
The lush green estate spreads approx. 3 acres comprising of numerous pockets of landscaped gardens, Mini orchards and a pristine water body running through it. The handpicked exotic plantation is a nature lover's delight that offers everlasting memories and the meticulously crafted landscapes are a treat for your eyes.
Water the ever so important element of nature cools your eyes, refreshed your senses and rejuvenates your soul. In the heart of the serene environment there is a water body surrounding with exotic flowers that brings to life the myth of heaven's gardens. The beauty of the vibrant flowers fills your eyes as you stroll along and the soft carpet of dew moist grass pampers you. You can sink yourself in penultimate luxury as the lingering fragrance of wild exotic flowers fills your mind.
This is a place where you can go all the shackles of modern life be a child once again and discover a whole new mesmerizing world in the lap of nature.
Signature Corbett trail offers Luxurious accommodation with the state of the art facilities. Hotel offers 24 rooms with modern amenities, spa, swimming pool, games, conference hall, activity rooms, garden and enough open area for the activities. Resort is spread-out and offers huge space for the games and activities. Resort is located very near to the famous tourism zone Jhina and Dhela. Surrounding beautiful river & jungle make the location perfect.